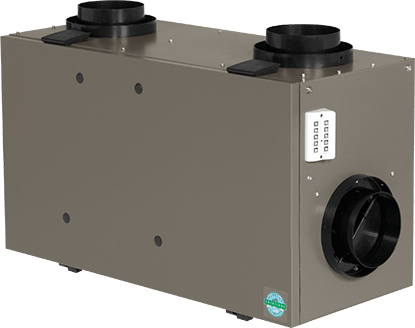 Heat Recovery Ventiliation units, also known as HRV units, pull stale air out of your home and replaces it with heated fresh air. The heat-exchange core transfers heat from the outgoing stream of air to the incoming stream, which heats the incoming air without additional heating costs.
Modern homes are built to be airtight so that there is little heat loss through windows, doors, siding, or cracks. Many older homes have had many improvements or repairs to the home including new windows, doors, insulation, vapor barrier, siding, and sealing all cracks, removing much of the airflow in or out of the home.
What this means for your family is that all the moisture, gasses, and possible pollutants are contained within your home. You could open a window, but that often doesn't provide enough fresh air to really solve the problem. Plus, it's not something we would recommend in January!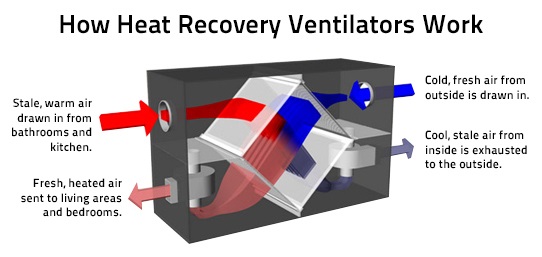 Benefits
A HRV will recover 60 – 95% of the heat contained in the outgoing airstream, which greatly increases the Energy Efficiency of your home.
An HRV contains a filter that will keep pollen or dust from entering the home in the incoming airstream.
Helps to balance the humidity generated within the home.
Removes or dilutes harmful gases and pollutants.
Annual Maintenance
Having us out to Inspect and Maintain your HRV includes the following:
Full Inspection of the HRV
Full Cleaning of the HRV
Checking the filter
Installations
If you are noticing that the air in your home is often very stuffy, or that there is a lot of moisture build up after a shower, cooking, or washing, your home may benefit from an HRV. They can also help with heating costs!
We can install most brands of HRV, so if you have a preference we are more than happy to accommodate. We choose Lennox as our recommended brand and they have many HRV's available.
For a quote, give us a call at (204) 982-6930! There are many different brands of HRV to choose from, but when it comes to selecting the unit for your home, the biggest difference is in the warranty offered and the potential for Energy Efficiency in your home.
Join our Loyalty List
Get the best promotions we can offer for the season. Join Now