Humidifiers
If the air in your home gets really dry, especially in winter, it may be worth it to look at getting a humidifier. One of the first choices you need to make is choosing between a Portable or a Whole-Home Humidifier. There are pros and cons to both options. Therefore, the one that works best will depend on your home and your family.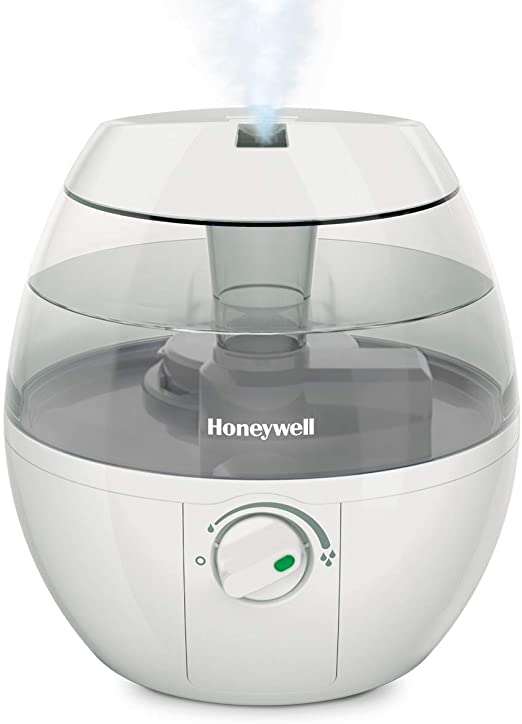 Portable Humidifier
Pros:
Moving the humidifier between rooms or homes is easier, especially if you are renting.
The initial cost can be lower.
Cons:
They can be noisy as the water will bubble as it moves in the humidifier.
You will need to refill it with water regularly.
You will need to clean it more often (The Mayo Clinic recommends cleaning every 3 days!).
If the humidifier has a pad or filter, it may need to be replaced more often.
Whole-Home Humidifier
Pros:
Set it and forget it!
Covers your entire home with one piece of equipment. Therefore, this eliminates the need to move the humidifier from room to room.
It requires minimal maintenance. This is because it is tied directly into your plumbing system for water and only requires an annual inspection and cleaning.
Low operating costs
Cons:
Initial Costs can be higher than a portable humidifier.
Benefits of a Humidifier
Some of the benefits of having a humidifier installed include:
Preventing influenza or other viruses

A study completed in 2013 found that humidity levels above 40% lowered the infectivity rate of viruses.
Making a cough more productive

Adding humidity to the air can get more moisture into your airways. As a result, a cough can release phlegm more easily.
Reducing Snoring

If the air is dry, a person's airways are less likely to be sufficiently lubricated. Consequently, this makes snoring worse.
Keeping skin and hair moist

In winter the constant transition from cold to warm air can dry out your skin, lips, and hair. However, appropriate humidity in your home reduces the occurrence of dry skin and hair.
Home Benefits

Proper humidity in the home can be beneficial for hardwood floors, wood furniture, houseplants, and will decrease the amount of static electricity in the air.
Installation
If you are noticing that the air in your home is dry, your home may benefit from a Whole-Home Humidifier.
We can install most brands of HRV, so if you have a preference we are more than happy to accommodate. We choose Lennox as our recommended brand as they have the most comprehensive warranty available. They offer many different types of humidifiers and we can recommend an appropriate one for your home.
For a quote, give us a call at (204) 982-6930 to set up your site visit!
Join our Loyalty List
Get the best promotions we can offer for the season.